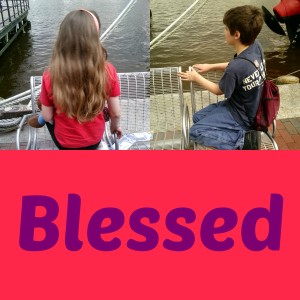 For a few years now, I've been reading people's "One Word" posts. I even wanted to select a word for myself. But last year, I had three words I liked and I couldn't narrow it down to just one. So I did what any sensible person would do…
I just gave up on the idea.
Ok, not so sensible. But this year, as soon as I remembered the "One Word" idea, my word was there for me. There was no hemming and hawing. No deciding. It was just there.
BLESSED
Apparently I've been having too many pity parties over the last few months. Or maybe I just need to be reminded that, despite my current circumstances, I truly am blessed.
With this being 2014, I thought I'd kick off this year of the BLESSED with 14 blessings I can count in my life right now:
My God ~ My Faith ~ My Salvation – This wonderful God blessed me with the gift of His Son; and, thus, the gift of salvation. This Son, Jesus, died for me, so that I might live. This photo is of my Origami Owl locket. In it is a plate that is stamped 'Blessed,' the word 'Love," and a cross – all to remind me of the love my God has for me! 
LegoFan – I'm listing him first, not because he's loved more than his sister, but because he was born first. LegoFan has been diagnosed on the Autism Spectrum, as well as a host of other things. He has taught me some much-needed patience. He has shown me true joy. I am blessed to know him and to be his Mama. 
Diva – Obviously, she was born second. She is developing into a beautiful young lady. She has brought femininity back into my life. She has humbled me. I am blessed to know her and to be her Mama. 
My Mother – I don't have a photo she'd be happy with me posting, so this will just be text. My mother is one of the few family members who truly supports me in my endeavors to continue homeschooling the children, despite being a single parent. She has supported my decision in word and deed. I am so blessed to have her in my life and to know that she supports us.
A Place to Live – We are not currently living in a place I would choose to live. But, my children have a safe place to be, play, and learn. We have a place that is warm and shelters us from the elements. We have something soft under our heads when we sleep at night. We are blessed to have somewhere to be each day.
A Car to Drive – Earlier in 2013, my car was a mess. It had dents, a crack in the windshield, a hole in the floor from the driver's heel, and had parts falling off of it. The worst thing? Two windows wouldn't stay up and there was no heat. Then the brakes went out… It was time to send it to the auto graveyard. So I looked for used cars. I set my budget and was determined to stick to it. I made a list of cars available at a few different dealers in the area and we set out to look. We had struck out at most of the dealers and there were only two left. We drove onto the lot and were a little disappointed in this little lot with some broken down cars and a trailer for an office. They didn't have the car I came there to see. But being the good salesman he was, the employee told me he had a few cars come in the night before that had not yet been advertised. He showed me one, but it wasn't what we needed. Then he showed me another one. It would not have been my first choice, or even my 10th probably, but I gave it a chance. It was $500 less than my budget, that was a good start. He gave me the VIN and told me I could go run a CARFAX on it. I got on my computer and researched the make and model only to discover that it was one of the better made cars out there. I ran the CARFAX to discover that this car had no accidents or any other problems reported in its history. It seemed like this car was supposed to be for me. After I bought it I realized that I had asked God for something safe and reliable; and He delivered. But not only that, like Solomon asking for the right thing in Wisdom and getting more than he asked for; I, too, got more than I asked for. I got some features I'd only dreamed about having! I am very blessed to have been directed to this car; and it has grown on me too!
Food to Eat – Food has been something of a struggle for us. LegoFan has battled food allergies all of his life, and each time he's tested, we find something new. This past year, we ended up going gluten-free, and change is not always easy. But we have found things to like, and new ways to prepare some of our favorite foods. It's a journey. But we have food, and we are able to prepare and enjoy good things to eat. We are blessed to have our daily bread!
Clothes to Wear – I am definitely not a fashionista, and I've had a love-hate relationship with clothing over the years! So right now, my wardrobe consists of jeans and t-shirts. It's not where I want to be, as I'd like to feel a bit more feminine most of the time. But I have something to wear. My children have things to wear. My mother sometimes picks things up for them too. And then there's the time when I found jeans for LegoFan for $2.67 and blouses for Diva at $2 – what blessings! Then Cammie over at A Woman's Place posted about her thrifty find called thredup. I went over there and found a treasure-trove of dresses for Diva at great prices (if you go over there via my link, you will get $10 off your first order with them, and so will I). We are truly blessed to have such clothing to wear.
Homeschooling – I love this blessing! To be able to be such an integral part of my children's education is amazing. I get to see the light bulb go on when they figure out something new. I got to be the one to not only teach them how to read, but also the one to show them the joys of a good book. I was privileged to be there with Diva as she struggled through long division and came out victorious. I am able to encourage LegoFan as he tries to find ways to communicate his knowledge, even if they are a bit unconventional. It's a road we travel together; one in which we learn and grow together as well. I am blessed with the freedom and ability to be my children's teacher.
The Internet – I know, this can be a blessing and a curse. It is both to me sometimes. But coming from the perspective of blessings, I have been reunited with friends from college, high school, and even elementary school through facebook. I have had the opportunity to meet like-minded individuals through twitter and facebook. I have the chance to write, explore my thoughts, and share parts of my life via this blog. I have found deals to save money on things we need, as well as ways to earn a little money. I have 'met' several wonderful ladies through blogs and homeschool groups. I am blessed by what I have chosen to use on the internet, and what it has to offer.
My Plexus business – I recently decided to join Plexus to help improve my health and to help me earn a living to take care of my babies. This company is dedicated to natural ways to get your body in tip-top shape. Their most notable product is Plexus Slim and I just started taking it. I guess I will have to post before and after photos along this journey.  I am blessed to be in business for myself with a company that helps to improve others' health.
My Origami Owl Business – This was the first business I really joined. I fell in love with the concept of Living Lockets – I loved being able to design and re-design my own jewelry, and that it told my story! And it's just plain fun – fun to wear and fun to present! I am blessed to be in a business that is fun and prides itself on being a "Force for Good."
My Lilla Rose Business – I just love my Lilla Rose business. I ended up joining Lilla Rose at roughly the same time as Origami Owl – and it wasn't planned that way! Lilla Rose has the most beautiful hair accessories – I call it Hair Jewelry! But it's not just that they're beautiful, they actually hold my hair! All of it. All day. And NO headaches! But I got something else when I joined Lilla Rose: I got a Lilla Rose family! We have a group on facebook that is so supportive and encouraging, that it's impossible not to succeed. I am very blessed to be a part of this company, to be able to wear these lovely products in my hair, and to be a part of the Lilla Rose family.
God's Majesty – God sends reminders of His blessings constantly. Sometimes it just takes me longer to see them. But they're always there. God is the Master Artist and there is just so much beauty in His world. God's Majesty fills me with awe. I am blessed to live in a world with so many beautiful sights, that He provides them for my (and your) enjoyment!
As this year continues forward, I know there will be difficult times. I know there will be days that I have a hard time remembering to be grateful. This post will serve as a reminder ~ and permanent record ~ that I have a lot for which to be grateful.
I am truly blessed!
What is your word for this year? If you've written a post about it, feel free to share a link in the comments.
* Disclaimer: Most of the links in this post are for my businesses, one is an affiliate link. All are ways to help me help my family. I am a single parent trying to keep my babies home and take care of them in the way I feel God wants me to. If you click on the links and make a purchase, you will be helping us, and I will be grateful.