I made this for a friend for St. Patrick's Day. However, I don't think it needs to be limited, so I'm posting the directions in June! It's called Pots of Gold at the End of the Rainbow, and consists of Skittles and Rolos – Yum!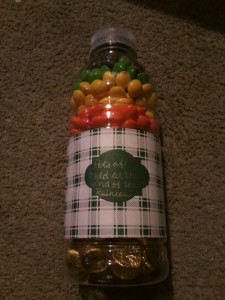 The first thing I did was purchase and drink a bottle of fruit-flavored water – this part of the gift was for me! Make sure you wash and dry your bottle and lid before working with them. I removed the manufacturer's label, but covering it would probably work just as well.
I measured the flat space and cut out a rectangular piece to fit around the bottle. Then, using a double-sided adhesive, I attached the paper to the bottle.
Next, I got out my Big Shot and my Papertrey Ink Fillable Frames Die and die cut two out of dark green paper. I added one to each side of the bottle. One side said, "Pots of Gold at the end of the Rainbow" and the other side said, "Kiss Me, I'm Irish."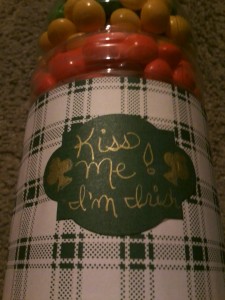 Then I got to fill the bottle – another fun part for me because not all of the candy fit in the bottle! I put a handful of the Rolos at the bottom for the Pots of Gold. Then I divided the Skittles into colors to recreate the rainbow. I put them in one layer, one color, at a time and put on the lid. I used Skittles, but you could also use M&Ms.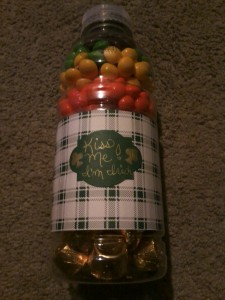 A fun, simple gift to send to someone to let them know you care!
* This post is linked to Home Sanctuary,  Deep Roots At Home and Homemaker's Challenge.