Kendra from Catholic All Year "tagged" her readers to answer several questions, so here goes…
1. Where do you live? And why do you live there?
I live in Maryland. I guess you could say I live here because of my parents. We were living in Connecticut, when my father retired from the Navy. He got another job that ended up transferring us to Maryland in 1982. I've been here ever since. I would actually like to move out of Maryland, but I am legally bound to stay for a while. As much as I would like to move, I do love all the history that is here; especially the Catholic history. We are also relatively close to both the mountains and the ocean; and we have some incredible farm lands. Despite its problems, Maryland is a beautiful state.
2. What are you currently watching and/or reading?
I am currently watching the NCAA March Madness Tournament – my brackets are busted, but I'd be happy with either UCONN or Florida winning. The kids and I have started watching the Dr. Who tv series and are through the first three seasons. As for reading, we are reading through the book of Leviticus as well as Sir Walter Scott's Ivanhoe.
3. What kind of Catholic are you: cradle, or convert? (Or considering?)
I am a cradle Catholic. However, I don't think I really had an appreciation for the faith until I started to teach my children. And this deepened even further when I went through my divorce.
4. Can you point to one moment or experience that made you a practicing Catholic? (Or want to be?)
In college, I was known as "the girl who went to church," which was great, but I would party every weekend and wasn't really living it. However, when I started teaching my children, we listened to Jeff Cavins' Bible Timeline Adventure – I learned so much about the Catholic faith that I had either forgotten or never knew. It was at that time I decided to make a more conscious effort to raise my children to live out their faith, not just go to church.
5. How many pairs of shoes do you own?
Let's see: a pair of tennis shoes, a pair of flat suede boots, and a pair of heeled boots that are falling apart. And there's my Christmas Shoes.  Remember this song?
This has always been Diva's favorite Christmas song. So a couple years ago, she went out and bought me a pair of glittery gold, sequined shoes so she could be like the boy in the song. The shoes didn't fit and we went back to get a larger size. But they didn't have a larger one. So we looked around together. She saw these rain/snow boots and had me try them on. We actually tried on two different pairs, but we got the pair that she (and I) liked the best…
I guess that means I have four pairs of shoes/boots.
6. Are you a good dancer?
Wow, I'm not sure about this one. If I was still in my 20s I'd answer a firm "Yes!" However, I haven't danced for about 14 years. I've taken Swing dance lessons and I'd like to learn other kinds of dancing; but right now I have no dance partner. Alas, the answer to this question will have to wait.
7. Who usually drives, you or your husband?
Well, since I am a single mom, I have no choice. I'm the one and only driver in this family. If I was married, I would prefer that he do the driving and I do the passengering.
8. What's your favorite holiday and how do you celebrate it?
Christmas is my favorite! First, we keep Christ in Christmas. We love the music and the lights of the season. We love the giving. We love trees, train gardens, and Christmas villages.
We have participated in Holy Heroes Advent Adventure, done Jesse Trees, baked cookies for everyone we can think of, bought presents for under the Giving Tree, and more. It's such a wondrous and wonderful time of year.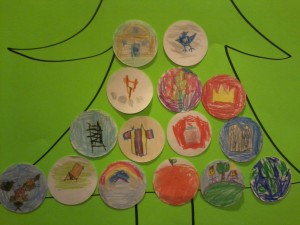 9. Which is correct? Left or right?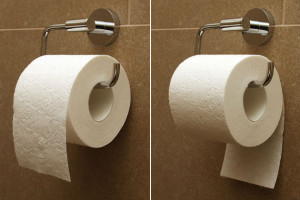 The left. Definitely. I will change it if you put it the other way…
10. Do you have any scars?
I assume we are talking about visible scars here… And I have a few. I have one really big one from my two c-sections and subsequent hysterectomy. I have another one on the bottom of my foot from when I was a kid and went fishing. Barefoot. I slipped on a rock and sliced my foot. Then there was the time I fell off my bike and had the kickstand go into my calf. Sorry, no photos, next question…
11. What's the most famous thing you've ever done?
Since Kendra broke the rules altered the number of things, I'm going to go rogue and list two here. First, when I was in high school, our marching unit was selected as Maryland's sole representative to the Inaugural Parade of Ronald Reagan in 1985. It was too cold that year and the parade was cancelled. President Reagan arranged for all the parade participants to come to the arena in Landover, MD; and we all got to hear him speak. My one regret is that I didn't pay as much attention as I should have.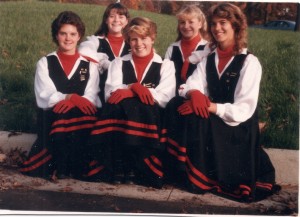 And my other claim to fame is being an extra on the show Homicide: Life on the Street. This show was filmed in Baltimore and I was blessed to be an extra on one episode where a priest or two were murdered. I got to be a mourner at the funeral. In fact, I had to tell the person in charge that a Catholic would genuflect before entering the pew. He told me I should add that then, but it ended up on the cutting room floor. I was in Season 6, and I think the episode was called Something Sacred.
Thanks, Kendra, for including all of us in your award! It was fun!