Reconstruction – Part One
Third time's a charm…
I finally got my first saline injection; the first step toward eventual reconstruction.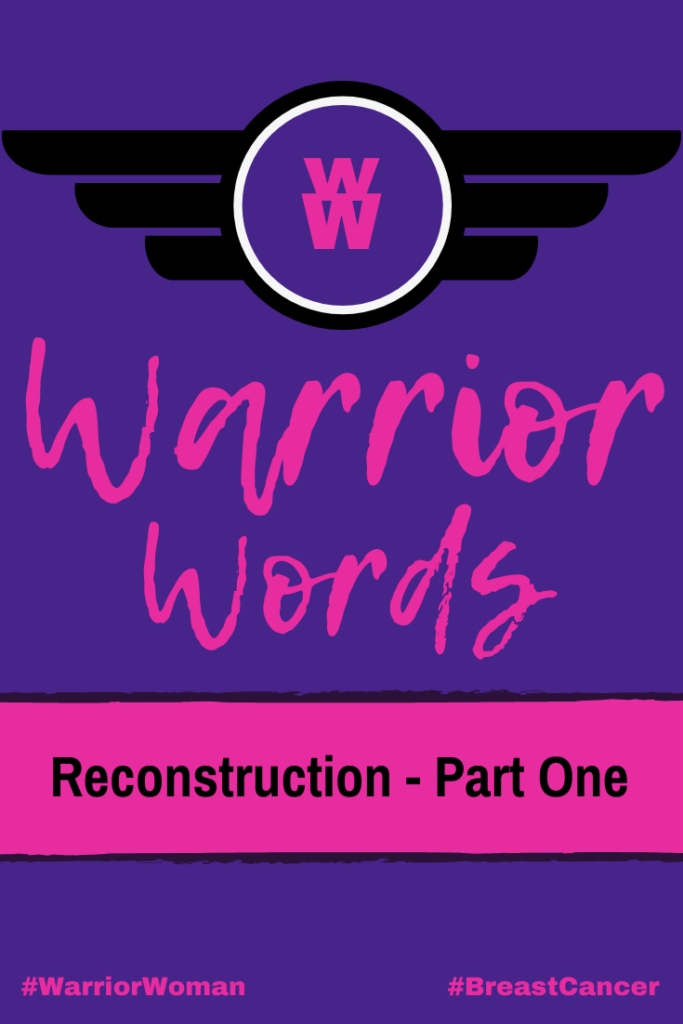 I was told that some people find saline injections really uncomfortable, but it wasn't bad at all. The worst part was when I looked over at my surgeon and he was filling a bag with the saline that would get injected into me. The needle he was using was about a foot long!!! I gasped and said I shouldn't have looked. I thought he was filling the needle from the bag and was going to use that thing on me! Ha! No. We all had a good laugh about that, but I still wouldn't look at the actual needle he ended up using.
I asked him to look at the two incisions I had from the port placement and he agreed the skin around them appeared to be red & itchy due to an allergic reaction to the tape holding the steri-strips on. He removed both, but one of the incisions was still a little open. Some of the itching went away almost immediately. The bumps are still a little itchy though. I am now putting some of that silver cream on both while the skin around it calms down. He said there was a chance my oncologist may delay my chemo, so he messaged her, but I haven't heard anything. He suggested I message her with a picture of how it's looking. I'd hate to drive all the way out there – it's almost 45 minutes away from home – and find out they want it to look less angry first…
So, barring delays, my first chemo treatment is coming up very quickly. I'm not sure what I'm feeling. I want to get started, because the sooner I start, the sooner I'll finish. Also, the sooner I start, the more quickly we'll (hopefully) get rid of anything else growing in my body that's not supposed to be there. But I'm worried about the side effects…
Honestly? I'm also worried about my kids watching me suffer. They've seen and experienced too much in their young lives already, I hate to think about them watching me go through all of this. But once again, I am trying to switch my perspective. I am hoping instead that they see a fighter, a warrior, an overcomer. I'm hoping they see a woman triumph. I'm hoping that instead of seeing suffering, they see strength & courage. And I'm hoping, that through my experience, they see this warrior who has battled this awful disease in a way they can be proud of instead of sad for…
See all posts on my breast cancer journey here.
This post, Reconstruction – Part One, first appeared on HeatherGaffney.com – copyright 2021; all rights reserved.
Notice: I use affiliate links. Clicking on my links doesn't increase the price you pay, but it helps me support my children and myself while we walk this journey.