On Monday, I went into an operating room for a third time since being diagnosed with cancer; this time is was to get a port surgically implanted in my chest. WebMD has a good explanation. It's basically just a quarter-sized disc with tubing. The tubing is inserted into one of my major veins. From this, the docs can use my port to administer the chemo drugs, give me IV fluids or other meds, or draw blood instead of poking my veins every single time.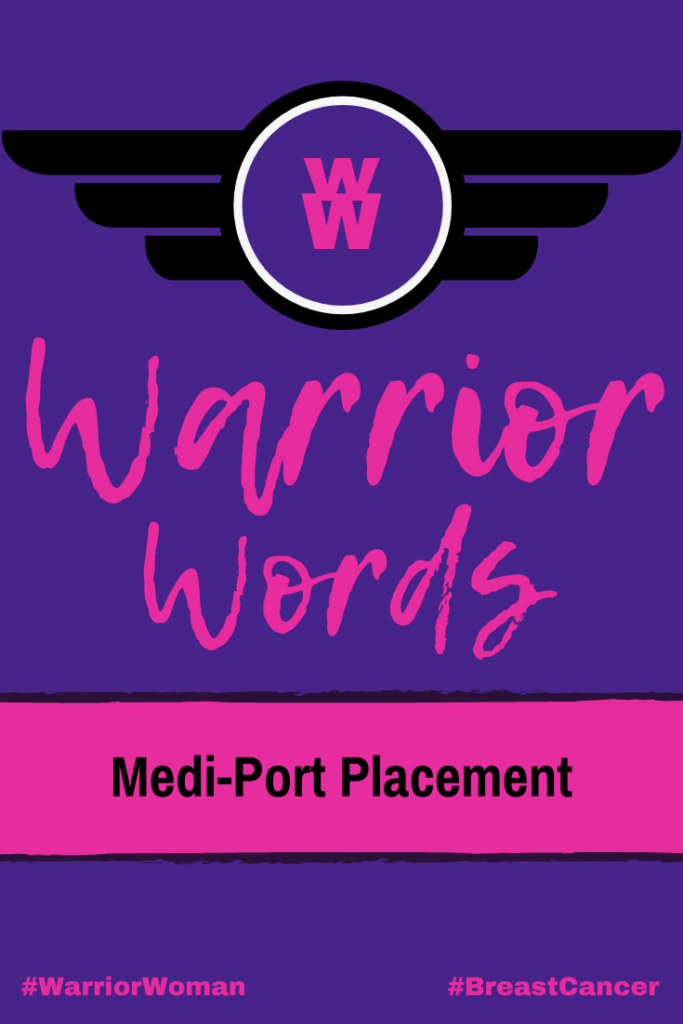 They tell me I did a good job, but really, all I did was lie on a table, turn my head to the left, and fall asleep in the middle of a sentence (at least that's what they told me). When the pain meds wore off, I was in a lot of pain. Not a little. But a lot. I couldn't swallow without pain and I definitely couldn't eat. I drank a protein shake for dinner, and I stayed lying down for most of the day/night. But when I tried to get up to use the bathroom, the muscles in my neck screamed at me for moving them and my chest and shoulder screamed as well. Thank goodness for a leftover pain-killer and a current prescription for amitriptyline.
The next two days were a bit better and I was able to go out to see my daughter sing at school a couple days later. But the area is SUPER itchy and I can't put any lotion on it yet.
Switching topics… I had to go to a new physical therapist to discuss the possibility of Lymphedema. (So I now have two PTs – one for Lymphedema and one for my foot/ankle which I broke in June of 2019 and this diagnosis has put on the back burner). She confirmed that I do have Stage 1 Lymphedema. She said I can choose to go through the treatment, but she doesn't think I need that at this point (plus she said it was no fun at all!), but what she is telling me is I HAVE to get fitted for a compression sleeve and gauntlet. And I HAVE to wear it… EVERY day.
For. The. Rest. Of. My. Life…

Can you tell I'm not happy about this???
People have said I'm handling this well and that I'm brave, courageous, and inspirational. But I'm definitely not feeling that today. It seems that this is getting worse and worse at every turn. And, honestly, I'm tired of things going wrong. And now, even if I can completely beat this cancer and be cured of it, I will always have this reminder.
I will never be free of cancer.
I will never be totally healed.
I know this is different from the optimism and metaphors I've written about before, but with chemo starting in four days and this latest diagnosis, I'm just feeling a little defeated right now.
But I promise to try.
I promise to continue to pray.
And I promise to fight.
Because even if I have to wear this sleeve for the rest of my life, it will mean that I'm still alive, and for that I have to be grateful.
See all posts on my breast cancer journey here.
This post, Medi-port Placement, first appeared on HeatherGaffney.com – copyright 2020; all rights reserved.
Notice: I use affiliate links. Clicking on my links doesn't increase the price you pay, but it helps me support my children and myself while we walk this journey.