Tomorrow begins a new chapter, as I will be meeting with my oncologist. We met at my first care team meeting, but I haven't seen her since. I'm feeling a bit odd as I don't know what I should be asking her. It's like I don't know what I don't know. Of course, I will ask about prognosis, treatment options, length of treatment, # of treatments, side effects, method of treatment, etc. But beyond that, I'm not sure. The only thing I'm sure of is that once treatments start – whatever they are – things are going to change around here.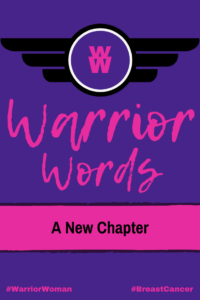 I vacillate between feeling like a warrior who's going to kick cancer's butt to feeling weak & tired, just wanting to sleep through it all, waking up only when it's all over. But I have some very important things to be awake for over the next couple of months! I have my daughter's delayed graduation to attend!!! I can't miss that! And there's college to prepare for – for two students! So I need to get some purple boxing gloves and be that warrior!
The set I got is out of stock, so I found two purple pair and a pink pair, similar to what I got. I also got a set of metallic sharpies. I decided that I would ask members of my care team to sign the right glove, as they are my right-hand in all of this. Then I'm going to have family members and friends sign the left glove. These gloves will be a visual reminder of the fact that I am not fighting alone; I have lots of people fighting with, and for, me!
I watched a video this week (full disclosure: this is one of the wonderful people with whom I get to work every day, but it's something I'd share anyway). This is someone who has overcome so much and I really admire what she's been able to do. What she has to say is applicable to so many of us. While wee may not have had the exact same experiences, we can all benefit from her wisdom. So I hope you will watch. It's less than 20 minutes. I know I will watch it over & over again, especially when I need a dose of courage.
This post, A New Chapter, first appeared on heathergaffney.com. Copyright 2020; all rights reserved. This site uses affiliate links, which means if you make a purchase through one of my affiliate links, I will make a small commission, but you won't pay any extra. This helps my family through this difficult time and we appreciate your use of our links.
See all posts on my breast cancer journey here.