Second Breast Cancer Surgery
The surgery was successful! My surgeon was able to remove the dead skin and stitch me back up again. He found a bit of 'older' blood causing some visible bruising on my skin, so he siphoned it out and sprayed the whole area with antibiotics. He also noticed that the incisions for my lymph node removal and my drains were not healing properly, so I have a new medicine for that. That brings the total meds right now up to five.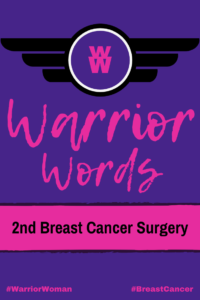 Yesterday, I was so fatigued, I had to fight to keep my eyes open. I didn't sleep well the night before the surgery, and then I was told I had to sleep almost sitting up for two nights. And I didn't sleep well the night after the surgery. But last night was much better as I actually slept.
I used one of these 'husband pillows.' (They're also used for reading in bed, gaming, etc.). It helped to keep me more upright, yet was still comfortable enough for resting.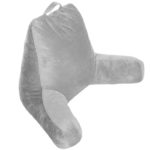 Another option I found was this wedge pillow. It's adjustable and is even labeled for post-surgery sleeping. Maybe I'll just get one for everyday use!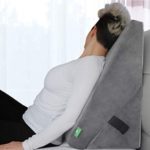 The next steps in my journey include the Oncologist, a follow up & hopefully saline injection with my Plastic Surgeon, and meeting my Occupational Therapist. And hopefully, somewhere in there, I can get in to see my Physical Therapist for my foot.
When I meet with my Oncologist, I will find out what course of treatment she recommends for my type of cancer. I will also, hopefully, find out what my chances of survival are with the type of cancer I have.
The Occupational Therapist will check for signs of lymphedema. This is a condition that some patients get and some don't, and they don't even know why only some people get it. Basically, it's where the lymph (fluid) that used to travel throughout the body via the lymphatic system actually spills into the body and causes swelling and other problems in the impacted limb. This is not a condition anybody wants to get. If left untreated, it can have dire consequences.
And my Physical Therapist… I would really like to be able to walk normally again. Tomorrow, it will be exactly 1 year since I sprained my ankle and broke my foot. I have been exercising my ankle and other muscles/tendons in my foot to strengthen it and get some mobility back. Before I had my mastectomy, my PT told me he wants me to be able to stand with equal weight on both feet (no boot!) and then he wants me to be able to lift my 'good' foot up for a second and put it down – no boot and without falling! I can stand on both feet now, and have been able to slide my foot forward while leaning on the wall. Though, I did use my cane to actually walk up the steps into church today, and I walked up to receive Holy Communion. So progress is being made! Now that I'm healing and COVID restrictions are lifting, I'm hoping to get back to physical therapy.
See all posts on my cancer journey here.
This post, Second Breast Cancer Surgery, first appeared on heathergaffney.com. Copyright 2020; all rights reserved.