I left off last time by saying that there was an area of my skin that my doctor wanted to watch. And so we did.
It did not improve in appearance. I went to his office for the first step in my reconstruction process: a saline injection; it didn't happen.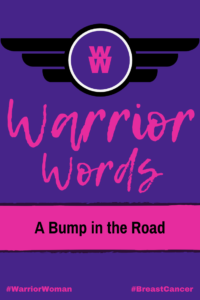 Here's how they explained it to me: During the mastectomy, they saved my skin so that I could have my breast re-built later on. An expander and temporary implant were put in place of my former breast. There's a magnetic port on the outside of the expander which matches a magnet they keep at the office. What I found interesting is that each expander has its own magnet that's specifically matched to it. So they use this magnet to find the exact location of the port.
Once the port is located, they can inject a saline solution into it that will slowly stretch my skin back to the size and shape it was originally. They put 300 cc's in during my mastectomy and the goal is to add 60 cc's each time until we reach the right size. I'll be honest and say I haven't decided if I'm going to shoot for the same size I was before, or if I'm going to go a little larger.
That's the silver lining to this situation. Now that I'm a breast cancer patient, augmenting is no longer considered elective surgery. Which means that if I wanted to go a size larger, I can. And it's covered. But that would also mean surgery on the other side to get a second implant in. So I'm thinking about it.
But I digress… I'm in the office and the tray's beside me, waiting to get started. My doctor looked at that spot he wanted to keep an eye on. And the nurse put the tray away. Unused.
He told me that the spot was actually some skin that had died. And it had to be removed. The Bump in the Road. He said some doctors would do this procedure in the office, but that wasn't how he wanted to handle it. Since I have an expander and temporary implant, an infection could set me back months, and neither of us wanted that. The only alternative was another trip to the OR. It's the best way to minimize the chances of infection.
He would cut out the spot and stretch the remaining skin and stitch it back together. It would be a quick surgery and I would be under heavy sedation instead of general anesthesia. The next week's appointment was supposed to be for my second saline injection; it is now for a second surgical procedure due to breast cancer.
I was really bummed about not getting starting on the reconstruction, but I also know that reconstruction can't be completed until after I complete whatever treatment plan we decide on. So this is the bump in the road, as my surgeon called it. He told me not to be too concerned about it as it was only a bump and not a major setback. I trust him; and know that he has my best interests at heart. He wants me to beat this and have the best possible outcome. In fact, this reminds me of a line from a Bon Jovi song I heard recently:
I just want to live while I'm alive. (Jon Bon Jovi)
It's my hope, my wish, that I'm alive for many, many more years. But it's even more of a hope that I can thrive instead of just survive!
See all posts on my breast cancer journey here.
This post, A Bump in the Road, first appeared on heathergaffney.com. Copyright 2020; all rights reserved.