Surgery is over. My breast has been removed. And there were no major complications. But because we started late and apparently my body wasn't ready to wake up; we didn't actually make it home until 2 am – long day!
I go back and forth between missing my breast, feeling just a little less feminine; and realizing that this surgery may have just saved my life. And in reality, having my life is much more important than having that breast.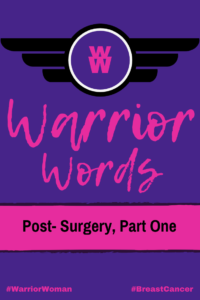 The Game Plan was to remove the sentinel lymph node and send it for diagnosis while the mastectomy was taking place. If the node was positive for cancer, she would remove more nodes. If it was negative, the sentinel node would be the only one removed. Then the plastic surgeon would take over and insert an expander because I have chosen reconstruction. Drains would be inserted; one in my breast area and one under my arm (if more than one node is removed). So that would be my sign: if I woke up with one drain, there was no cancer in my lymph nodes. If I woke up with two drains, they found cancer.
I woke up with two.
Let me tell you… these are so uncomfortable! They basically made two additional incisions under where my breast used to be and tubes are coming out. But they also had to stitch them up again to hold these tubes in place. So every time I twist, turn, or bend, it's painful. Each morning, the pain medication has worn off, but I have to get up to use the bathroom before another dose can take effect. I have to bend to get to a seated position and then have to bend to get my boot on my broken foot and another shoe on. Lots of bending; lots of pain.
The drains have to be emptied every eight hours or so and the output has to be measured. I'm such a baby, lol, I can't even watch it being done, much less do it myself. It's bad enough that I have to see blood-filled tubes all day long as well as the bulbs as they fill. I learned the hard way to always remember to look for & know where my tubes are – you do not want to roll over on them or rest your hand on them while trying to get up. Speaking from experience here! I keep the bulbs in the pocket of my zipper front hoodie so they're not just hanging down and pulling all day. They came with some loops and a safety pin, so I can pin them to the inside of my hoodie, or to another shirt if I wanted. But, honestly, had I known more of what this was going to be like and known that there were shirts created just for this experience, I would have bought one!
Here are two I found on amazon; unfortunately after the fact!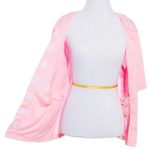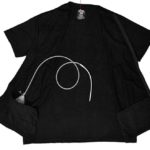 The pink shirt has a velcro closure so it's super easy to open & close. The black one has a zipper front, so it's also easy. I like how there are pockets on the inside of each shirt to hold the drains. They're great for single or double mastectomies as there are pockets on both sides.
I am getting used to the drains; sort of. The goal is to get down to 10 cc's of fluid (blood) in each in a twenty-four hour period. We are down to checking only once every twenty-four hours now, so that's progress. And as much as I don't like these things, it has been interesting to watch the color of the output change slightly, from very dark red to orangey-red. Ok, maybe you don't need to know that. So I'll end it here and pick up with another part of the recovery process in the next post.
This post, Post-Surgery, Part One, first appeared on heathergaffney.com. Copyright 2020; all rights reserved. This site uses affiliate links, which means if you make a purchase through one of my affiliate links, I will make a small commission, but you won't pay any extra. This helps my family through this difficult time and we appreciate your use of our links.
See all posts on my breast cancer journey here.