This has been both the longest and shortest week of my life! With just one week from meeting my Care Team until my surgery date, it has been a whirlwind of thoughts, calls, texts, messages, preparations, and, of course, prayer.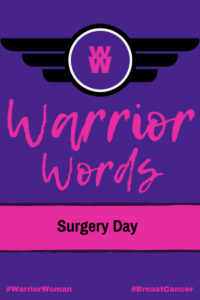 I have had some help from my mother; I don't know how I would have gotten this far without her. Just knowing there's someone there and she's taking care of the little (yet highly important) tasks makes things a bit easier. It's honestly so hard to go through this without a husband, or even a boyfriend. That perspective is definitely missing from this scenario.
But surgery day is here. Starting last night, my brain began to focus more heavily on the loss of my breast. Part of me says that's vanity; the other part is mourning the loss of yet another body part to yet another disease. I mean how many more body parts can I loose?
I know I'm opting for reconstruction, but it will never be the same. It won't look the same. I've lost my nipple already and I'm not even in the hospital yet! It won't feel the same as there will be little to no sensation when all is said and done. And in all honesty, I'm wondering about what a perspective husband may think and fell about this walking into it once it's done.
[SIDE NOTE] As I typed that last sentence, it hit me that it was – at least partially – a faith-filled, optimistic statement. Not the part about what a perspective husband would think. But the fact that I'm thinking into the future like it's going to happen. Like I'm going to be there. Like I'm going to eventually start dating. Like I may actually re-marry. That's HOPE! Hope is such an amazing thing to have!
Back to today… It's a late start, so I'm sitting here again with my thoughts (and my hunger pangs! I really want a glass of water right now!). But I am confident in my surgeons; both my cancer surgeon and my plastic surgeon. And I know I will have family members in the waiting room, waiting for me, thinking of me, praying for me. And I know that I have dozens, if not hundreds, of Prayer Warriors out there praying for this Cancer Warrior today. Though I do not know what my surgeon will find today, and I do not know the outcome will be; I do know that I've got this, because God's got me!
See all posts on my breast cancer journey here.
This post, A New Perspective, first appeared on heathergaffney.com. Copyright 2020; all rights reserved.