I told my kids. Even with everything I've been through in my life, including an abusive husband, telling my kids I have cancer is the hardest thing I've ever done. Now I'm sure I'll face some other really difficult things in this journey – and beyond – but this is something I dreaded and never want to have to do again.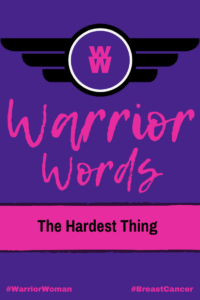 I told them in our car. In a parking lot. I would have preferred a nicer setting; not that it would have made it easier, but maybe a tiny bit nicer somehow.
I had prayed about it and asked God to let my words be His words. I thought about the book of Job and about all the difficult things my kids have been through in their young lives. So I ended up beginning by asking if they remembered the story of Job. My daughter recounted it in her own beautiful way. I told her that I was glad she had that perspective because we had one more thing to add to our list of things 'gone wrong.' I asked to hold their hands and the words "I have cancer" just came out. It happened more quickly and more bluntly than I wanted, but it was done. The cancer word was out there.
My daughter's hand flew to her face and she started crying and kept saying "no" – I never want to see that look of fear on her face again. It broke my heart. I hated that I – or my disease – had to scare her like that. My son kinda just sat there. It was yet another time I was grateful for autism. He didn't seem to know what to say or what to do. He finally said, "You're strong, Mama, and I love you for it." Made me cry even more.
I told them what I knew and that I'd find out more at my appointment the next day. Then I asked if they had any questions. They didn't. I asked what they were thinking and feeling. No one would or could answer me.
I am grateful that I arranged for them to have someone to talk to right after they heard this awful news. My son promised to help me as he could. My daughter seemed to be a little better when she came out. She even decided to go back to school for rehearsal. Did I mention that she's Belle in Beauty & the Beast? I probably did. Because I'm so proud of her and I can't wait to see her in that role!
I told them two things:
After the required helping, they could be involved as much or as little as they wanted.
I would answer any questions they had as honestly as I could; that I would not keep any secrets from them about this.
I also added for my daughter that even though I am the one with the disease, I know that cancer impacts everyone in the family. So she is free to tell whoever she wants. She is free to talk about how she is feeling with her friends, teachers, etc. So far, she hasn't told anyone. I will keep encouraging her to talk about what's going on as I don't want her to keep things bottled up. The thing with good actresses is that sometimes it's not easy to tell if they're really as ok as they appear…
Be strong and courageous. Joshua 1:9
See all posts on my breast cancer journey here.
This post, The Hardest Thing, first appeared on heathergaffney.com. Copyright 2020; all rights reserved.