My Life Is About to Change
Today I was diagnosed with breast cancer. Two weeks before my birthday.
There was part of me that just knew. There was part that hoped & prayed I was wrong.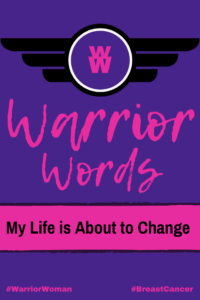 But knowing still didn't prepare me. I have questions…
How do I tell my kids? I'm a single parent. They will be afraid; heck, I'm afraid too. There's no other parent to console them or help them still have some normalcy I as I go through this. There's no one else in the house they can turn to.
How/When do I tell my family? I don't want to tell the story over & over. Do I just make an announcement?
How will I get my daughter to her school and my son to his school while I'm in treatment?
How will my treatment impact my family?
How do I accept the level of help I'm going to need? I've always felt like such a burden asking for help.
How do I handle work? Will I be able to work; and if not, how will the bills get paid?
Do I tell my ex? Do I tell his family?
And, of course, will I survive long enough to see my children become self-sufficient adults?
I don't know the answers to any of these questions… yet… but I will figure them out.
Ya know, 2019 was not-so-kind to me medically. I broke my foot in June and still can't stand or walk on my own – it's been almost nine months! My daughter has been trying to manage her own life while taking care of me. Then, right before Christmas, I had to have my gallbladder removed. My third surgery in less than three years. One of my pre-op nurses literally hit a nerve as she attempted to put the IV in and now I have daily nerve pain and it hurts to do basic tasks like brushing my hair. Was all this a dress rehearsal for the main event called cancer?
These past eight+ months have been so hard on my little family; and we are exhausted. And now cancer. The exhaustion, frustration, and stress are only going to get worse. I don't know how we're going to do this…
But I do know Who is going to walk through this with me:
Yea, though I walk through the valley of the shadow of death, I fear no evil for thou are at my side. Your rod and Your staff, they comfort me. Psalm 23:4
I want to keep a record of my journey , but I can't say with certainty how often I'll post. But I truly believe that God can & does make good out of bad situations. I do not know how that will look with my story, and I may never know, but it is my hope that someone sees something I write or experience and it blesses them.
Now, time to start working on kicking cancer's bloomin' arse! (A nod to one of my daughter's favorite musicals 😁)
See all posts on my breast cancer journey here.
This post, My Life Is About To Change, first appeared on heathergaffney.com. Copyright 2020; all rights reserved.