Not only is it the start of a new year, but it's the beginning of a whole new decade! It should be exciting.
People are popping champagne corks, watching a crystal ball drop, doing all sorts of things to celebrate. People are even comparing this upcoming decade to that of the Roaring Twenties of a hundred years ago. Let's just hope it doesn't end like this decade did a hundred years ago!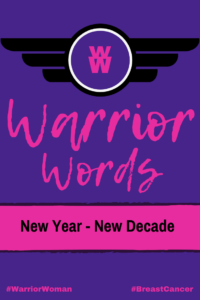 But on New Year's Eve this year I called my doctor's office to get my biopsy results only to find out that he had already left for the day. The nurse on the other end of the line confirmed that my results were in, but that she couldn't give them to me because a doctor may need to interpret them. But she looked anyway. I could have sworn I heard her say, "O Lord." and then she said that she would talk to the doctor on call to see if he could give me my results. He apparently refused. This phone call told me everything I needed to know on New Year's Eve.
I would start my new year, my new decade, with a diagnosis; a diagnosis that no one wanted to give me on New Year's Eve.
My year wouldn't start out with parties and celebration. But I had to wait. All I knew for sure was that my life was about to change…
See all posts on my cancer journey here.
This post, New Year – New Decade, first appeared on heathergaffney.com. Copyright 2020; all rights reserved.